February 2, 2014 is the Chinese New Year Parade at 1pm. It begins at 24th and Wenthworth and goes north to Cermak. In 2014,
it is the year of the horse.The Chinese New Year is also called the Chinese Spring Festival.
According to Fengshui Import, here are the things to do and not to do during the Chinese New Year.
It is believed that there are some bad chi accumulated in the previous year. So it is necessary to do some house cleaning and get a hair cut before Chinese new year in order to welcome auspicious chi in for the coming year. If you haven't got your new calendar yet, you need to get one 2013 Chinese Calendar.
Cook some food for praying or party use. Cooking more food for Chinese New Year Eve (Feb. 09, 2013) stands for bringing more wealth and abundant. In most Chinese region, people make new year cake (Chinese Nian Gao) to represent better and better in coming year.
Pray to the heaven god, earth god and ancestors to thanks to them for safety in the previous year.
Decorate the house using New Year Decorating and something represents wealth, good health, etc good meaning, such as ingots, fish, money tree, coins, wu lou, etc.
Gather together eating the dinner at Chinese new year Eve. Chinese new year Eve is considered union day. This is also the time to make wishes each other. In addition, people can't eat all the food. the remain of food is the symbol of abundant and wealth for coming year ( Nian Nian You Yu).
After finishing dinner, people are gather together waiting for the New Year coming. They usually don't sleep that night. Young persons need to Shou Sui for their parents and wish their parents live longer (Shou Sui means Holding Age).
Old people put money inside the Chinese Red Envelopes and give them to the younger to hope the younger good luck in the coming year. Giving red envelope is called Li Shi.
From Chinese new year on, people usually visit their relatives' house and send good wishes each other.
Chinese Lunar new year cerebration including dragon dancing, lion dancing, Parade and festival, etc cerebration.
Make sure not to do the following things on Chinese New Year 2014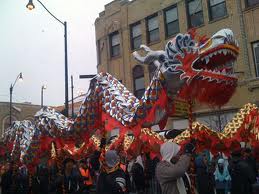 :
Don't use water to clean the floor or dump trash. Water is the symbol of wealth. People don't want the money to go away. Dumping trash is like Giving Away;
Don't kill animals. It symbolize safety (no war);
Don't break porcelain bowls or plates. Broken is the opposite of reunite; If people break something on Chinese New Year, that person needs to speak some auspicious words immediately;
Don't use scissors or needles. Using scissors or needles is said it will bring bad chi;
Don't speak inauspicious words.
Tweet