Antique World Great American Garage Sale is on May 20, 2017  from 8am to 4pm.
Great American Garage Sale in Clarence  are always on the 1st Sunday of the month and the third Saturday of every month, May thru October. 8am to 4pm. Free admission, $1 for parking on Sundays. Spaces are $30 for a 20 x 20 foot area. Early setup time is 5am to 8am.
Note the Flea Market is open EVERY Saturday and Sunday from 8am to 4pm from April 1 to October 31, 2017.
May 20
June 2
June 17
July 2
July 15
August 6
August 19
September 3
September 16
October 1
October 14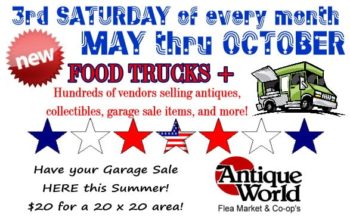 Tweet