Gold and Silver Coins Expo is April 21-23 at the Hamburg Fairgrounds. Admission is $2 per family. Held at Lower Grandstand – Carousel Banquet Facility.
April 21-22- 10am to 5pm
April 23- 10am to 3pm
What to Collect         Starts @ 11:00am – 11:30am
This fun filled workshop will help beginning collectors start a new coin collection and explore the different ways in which to collect coins from the US and around the world. There are as many different ways to collect coins as there are coin collectors.  Find out which one you like best!
How to Protect          Starts @ 11:30am – 12:00 noon
Today's every-day-coins can turn into tomorrow's valuable treasures if properly stored and taken care of. This event will show you how to store and protect your coins from the harsh environment around us. Free coin collecting supplies will be given to everyone who attends.
The Coin Dig          Show up any time from 11:00am – 2:00pm
Jump-Start your collection! Bring your Lincoln Cent and/or Jefferson Nickel coin folders and fill them with as many coins as you can in 15 minutes. Join the BNA's Young Numismatists Club and receive a brand new coin folder to house your collection. Membership is free and requires a parent's or guardian's permission. (6 to 18 years old)
The Young Numismatists         Meeting Starts at 1:00pm
The BNA Young Numismatists Club meets at every BNA Coin Show. Look for the "Kids Corner" sign and see what fun activity we are doing for boys and girls ages 6 to 18 years old. The more shows that you come to, the bigger the prize you will win at the end of the year.
For more information, contact The BNA Scouting & Youth Coordinator at jmbucki@The-BNA.org or visit www.The-BNA.org and click on the "Scouting & Youth" link.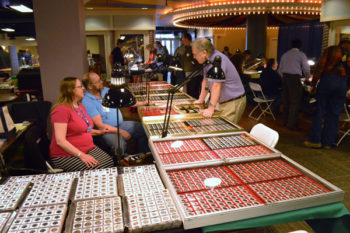 Tweet