Labatt Blue Pond Hockey Tournament is February 11-18, 2018. Gameplay Schedule, Event Schedule.
There will be (2) tournament options for players this year that will take place throughout the week of February 11th – February 18th. This means more teams, more players and more competition.
Here are the highlights of the 2018 Labatt Blue Buffalo Pond Hockey Tournament:
The 1st tournament will take place on Sunday, February 11th and will include 3 divisions ranging from novice to intermediate skill level. This is a 1-day tournament so all divisions will have 3 games and playoffs taking place all on that Sunday.
The 2nd tournament will take place from Thursday February 15th – Sunday, February 18th. Teams will play their first game on one night during the week Thursday or Friday evening (no game before 7PM) and finish their remaining 2 games and playoffs on either Saturday or Sunday depending on skill and age levels.
In addition to more hockey action this year, there will also be new activities that both players and fans can also enjoy throughout the week at Buffalo RiverWorks.
Burning Buffalo
Battle of the Bands
Labatt Blue Silo Tower Tours inside RiverWorks Brewery
Zip Lines (weather permitting)
Sillo Rock Climbing (weather permitting)
Sabres Alumni appearances
An Appearance From the Labatt Bear
Vendor Village
Ninja Course Skills Competition
Game Day Hospitality Tailgate (for Sabres Game on 2/17)
Video Feed for Sabres game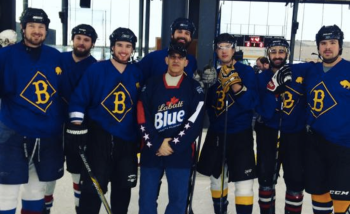 Tweet