With ice fishing you can catch perch, sunfish, pickerel, northern pike, walleye and in some places lake trout and landlocked salmon. Learn what you need to go ice fishing.
Beaver Island State Park Marina (Grand Island) – Yellow Perch, Smelt, Sunfish, Northern Pike, Largemouth Bass – Regulations
Big Six Mile Creek State Marina (inlet off Upper Niagara River located over Whitehaven Road) – Yellow Perch, Sunfish, Northern Pike, Largemouth Bass. Regulations
Downtown Buffalo Small Boat Harbor – foot of Ontario Street and there are huts on the Erie Canal just south of 198 and 190.
Tonawanda – Ellicott Creek Park – Creekside Drive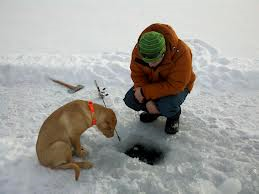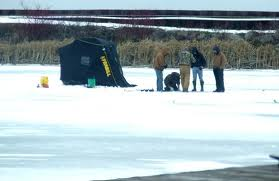 Tuscarora Bay – Wilson – Access ice from state boat launch at Wilson Tuscarora State Park off Route 18. Regulations
Presque Isle State Park – Misery Bay or Presque Isle Bay – Steelhead, bass, trout, walleye, perch. Ice boating is permissible.
Bear Lake and Cassadaga Lake – Pomfret – Stockton. Regulations and Info
Chautauqua Lake – Chautauqua, North Harmony, Busti, Ellergy – Regulations and info
Finley Lake – Mina – Regulations and Info
Ice Thickness Table

| Ice Thickness | Permissible Load |
| --- | --- |
| 2 inches | one person on foot |
| 3 inches | group in single file |
| 7.5 inches | one car (2 tons) |
| 8 inches | light truck (2.5 tons) |
| 10 inches | truck (3.5 tons) |
| 12 inches | heavy truck (7-8 tons) |
| 15 inches | 10 tons |
| 20 inches | 25 tons |