While we are sure fishermen and women will have their favorites, this provides some of the best places to go fishing in Dallas and Fort Worth.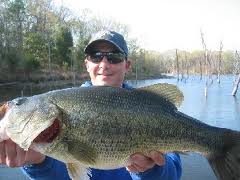 Texas Parks and Wildlife have some FREE fishing in the parks plus classes, derbies and more. Get the list of events. Learn more about the FREE fishing where Texas Parks and Wildlife has waived the normal fishing license. Get a list of the state parks where you can fish FREE.
Here are some places where you can get a fishing license – from Walmart, to  Dicks to Sports Authority.
1. Robertson Park -Dallas – free boat launch, no fee. Operated by City of Dallas. Dalrock Road and Cooke Lane.
2. White Rock Lake – Dallas – excellent bank access, several fishing piers, one boat ramp. Restrooms. Channel Catfish, Largemouth Bass, White Crappie.
3. Joe Pool Lake at Cedar Hill State Park, Cedar Hill – excellent bank access, several fishing areas and boat ramps. Restrooms. This is a state park so it is FREE and no license is needed. Largemouth bass, White bass, White crappie, Channel Catfish
4. Lewisville Lake –  Lewisville, Texas – Largemouth bass, Spotted Bass, White and hybrid striped bass, White crappier, Blue and channel catfish. Zebra mussels have been found in waters near this reservoir, hence, you need to drain bait buckets, live wells, bilges, and any other containers that could contain water before leaving the lake.
5. Bachman Lake – Dallas – excellent bank access. Largemouth bassk, Channel and Blue Catfish, White crappier, Sunfish
6. Lake Ray Hubbard – Dallas – excellent bank access and two boat ramps. Restrooms.
7. Lake Arlington at Richard Simpson Park – several fishing piers and boat ramps, bank access is limited. Restrooms.
8. Chisholm Park Pond – Hurst, TX – excellent bank fishing and a fishing pier. Restrooms. Freshwater fishing license is required unless the angler is 16 years old or younger. Two poles per person. Texas Parks and Wildlife stock the pond with 12 inch catfish during the week of April 23, May 7, 21, June 4 and 18, July 2, 16, 30, September 3,17, October 1,15,29.
4. Northwest Park Pond – Irving – bank access. Restrooms
5. Lakeside Park Pond – Duncanville – excellent bank access and two fishing piers. Restrooms.
6. Lake Lewisville at City Park – Lewisville – excellent bank access and several boat ramps. Restrooms