The Buffalo Geological Club welcomes everyone to come listen to outstanding speakers, join – $15 for individuals, $20 for families and to come to the fantastic show at the Hamburg Fairgrounds in March, 2015.
Meetings at held the Parkside Lutheran Church at Depew and Wallace Streets.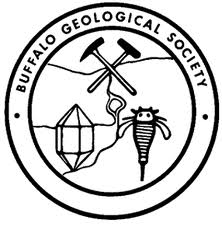 Buffalo Geological Society Events
(note that other than the Auction, you must be a member to go on field trips – insurance mandate)
Auction
June 6 – 7:30pm – Members can bring 4 items to be auctioned and all proceeds will go to the member.                    
Special auction for kids. Also need children for runners. At Parkside  Lutheran    
Church- 2 Wallace Street.
    6:00pm – Auction Set-Up
    6:30 pm – Viewing of Items
   7:00pm –   Auction Begins
Field Trips
Note all field trips are for BGS members only, no guests – due to insurance. All children must be supervised by parent or adult over 18 years of age or older. All events are rain or shine.
 May 3 – Penfield Quarry Open House – 7am to Noon. 746 Whale Road, Penfield NY 14526. Arrive by 6:45 to sign in and hear Safety Talk. Open to the public. Well-supervised children and power tools are allowed. Hard Hat (bicycle helmet for children), safety glasses, sturdy footwear, long pants. Fluorite, Selenite, Calcite, Dolomite, Sphalerite, Galena. Must stay back 20 feet from quarry wall and drop offs.
 May 17-9:30am – Family Fossil Hunting at Buffalo Creek.  Bring plastic supermarket bag and, if you have one, a hammer with a flat edge (rock hammer), boots for creek wading.  Get directions and register with  Bob Hoffman – 716-818-3904.
 May 17 – Penn Dixie  – Dig with Experts – 9am to 4pm – As an area is excavated for this program, great time to get the "good stuff" – trilobites, etc. Cost is $30 for non-members of Penn Dixie, $25 for Penn Dixie Members. 4050 North Street, Blasdell, NY. More info, call 627-4560
 May 30 – June 1 – Allegany Nature Pilgrimage – Presentation on Fossils, Geology Field Trip, plus choice of 10 field trips hourly- birding, bird banding, ferns, edible plants, old growth forest hikes, beaver hike, bug hikes, salamander hikes, etc.. (See alleganynaturepilgrimage.com). $40 for the weekend (adults), $5 for kids 5-18, free for kids under 5. Awesome event, check it out. If you only want to come for one day, check with them (eg. Saturday). Families welcome, kid friendly.
 June 21 at 9:30am – Buffalo Geological Society Day at Penn Dixie. Family event for fossil hunting – free admission for BGS member families only. Meet at Penn Dixie. FREE. Register with Bob Hoffman – 716-818-3904.
 June 21 – Field Trip to National Limestone Quarry, Mt. Pleasant Mills, PA. Arrive at 8:30am, enter at 9am. Dig all day. Adults and supervised children. Hard hat, steel toed shoes, eye protection, gasoline saws are permitted with safety gear. Bring lunch, water, insect repellant. Expect to find calcite, strontiatnite, wavellite, quartz, a few fossils. Mt. Pleasant Mills is approximately 4 hours and 18 minutes from Buffalo.
 July 4-6 – Field Trip to Miller Property at Eganville, Ontario, Canada. Meet at 8:30am, enter at 9am. Supervised children are permitted. Digging in Woods, insect repellant a must. Gasoline saws permitted.
Challenging road (SUV and Trucks recommended) –might have to car pool with others to access site.
Expect to find pink calcite, apatite, titanite, feldspar, amazonite, mica. Eganville is approximately 5 hours and 49 minutes from Buffalo. Can make a vacation – go to Eganville, Quadeville, Bancroft (check with the Bancroft chamber of commerce as they have mineral collecting field trips as well). Shamrock Hill B&B in Bancroft  and Craftsman Restaurant in Bancroft are recommended.
 July 12 – BGS Day at Rock City, Olean, NY. $4 per person (discount for BGS members).  Park is open from 9am to 6pm from May 1 through October 31. Families welcome. Rock City Park, 505 Route 16 South, Olean, NY 14760, Phone 1-866-404-ROCK
 July 19 at 9:30am – Smokes Creek behind  Newton-Abbott Fire Hall – 3426 Abbott Road, Orchard Park, NY 14127 . Family Fossil Hunting. FREE. Please register with Jon Nickerson – 716-633-5247
 August 16 at 9:30am– Family Fossil Hunting at Lake Shore. For meeting location and to register,
Call Joe Butch at 716-626-4027.
 September 6 – NOON – BGS Picnic, Shelter #1, Elma Meadow  County Park, 1711 Girdle Road, Elma, NY 14059. Bring dish to share, rocks and fossils to trade or sell and summer hunting stories. Hot dogs and soda are provided by BGS.
  Buffalo Geological Club
 Other Events of Interest
 May 16 – 7pm – Penn Dixie – Paleo Joe's Top 10 Dinosaurs Lecture  – At Gateway Executive Office, 3556 Lake Shore Road, Blasdell, NY – $5 – FREE for Penn  Dixie Members
 May 17 – Rochester Club (must be member) Field Trip to Bethany Area – Fossils  – see www.rasny.org
 June 7 – Rochester Club (must be members) 0 Field Trip to Pompey Center Area east of Syracuse – Fossils. See ww. Rasny.org
 June 7 – Niagara Peninsula Geological Show – St. Catherines, Canada  – www.ccfms.ca/clubs/npgs
 June 14 – September 3 – Penn Dixie is open for fossil collecting 7 days a week. Adults $7, children 12 and under are $6, free for Penn  Dixie Members. 4050 North Street, Blasdell, NY. More info, call 627-4560
 August 8-10 – East Coast Gem, Mineral and Fossil Show – West Springfield, Mass. 13-5 Memorial Drive – www. mzexpos.com
 August 23-24 – St. Lawrence County NY Annual Rock and Gem Show – Madrid Community Center, 1835 St. Why 345, Madrid, NY – www.stlawrencecounty mineralclub.org/show