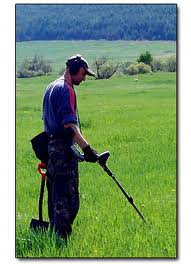 There are possibly rules and laws about metal detecting that you need to know before you go. Google codes and regulations for metal detecting to determine if it is ok to go where you want to go. Otherwise, get permission to go from whomever owns the land.
Historic sites are generally off limits. Boston does not allow detecting on  the Boston Common and the squares with statues.  Research routes and trails. State Parks and the National Sea Shore on the outer Cape are off limits, in fact the National Sea Shore may take your detector.
State Parks are off limits but the you might be able to get permission from the supervisor if you are using it for archaeological or geological purposes. Here's a website that goes into more detail. Ebay or Amazon or Metaldetector.com can offer you equipment.
If you interested in metal detectors, check out metaldetector.com