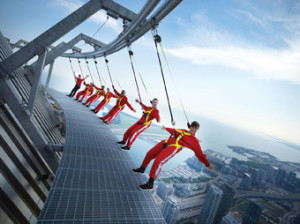 Ok, it's a bit of a hike from Buffalo and it costs $225 so it isn't cheap, BUT if you want the latest thrill, this is it! You basically walk outside a tall building on a 5′ ledge (ok with a harness) and are 1168 feet above ground. Open now through October. 9 am to 9pm or when it is still daylight (meaning as time passes this will be before 9), 7 days a week. Call 416-601-3833
For the $225 you get:
A keepsake video (so you can show your friends how nuts you are)
Certificate of Achievement (you are now certified nuts)
Photographs (you can carry these in your purse or wallet so you can brag)
Safety instructions (so you don't become a cracked nut)
Multiple harness checks
30-Minute walk outside ( ok, not if it is raining or windy)
The small print:
1. You must weigh more than 75 lbs
2. You must be 13 year of age or older . Age 13 -17 must be with parent or legal guardian
3. You must be in good physical health.
4. You can't be: pregnant, have broken bones (from your last time at CN towner), have undergone surgery or had a seizure in the last 6 months, have chest pain or shortness of breath, or under the influence. So, no drinks to build up courage! You will fail the Breathalyzer test.
5. Prior to going you will be: screened for narcotics, explosive or alcohol, metal detector and physical pat down to remove all fall hazards (no cameras, cellphones or binoculars, etc). Only allowable personal article is prescription glasses or contact lenses. We know this is going to be hard for those who can't part from their cellphone for more than a minute, but…it will be worth it.
6. No sandals or velcro closing shoes. Shoes are provided that are rubber soled and tie.